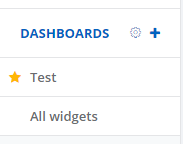 By clicking the gear icon next to the + button for adding new dashboards, it is possible to access the dashboards manager page.
In the dashboards manager all the user's dashboards are listed. It is possible to do all the following operations on the list:
Show/hide dashboards in the side menu;
Set the favorite dashboard;
Set the grouped visualization for shared dashboards in the side menu, if shared dashboards aren't grouped, a sharing icon is added to distinguish them;
Order the dashboards by dragging the rows in the list;
Access a dashboard by clicking its row;
Set a category for a dashboard so the dashboards with the same category are showed grouped in the side menu.