A Databoom PRESTIGE user can manage the users of his subdomain.

By clicking the  Create subdomain user it is possible possibile to add a user to the subdomain, the required fields are:
Username;
User type, if the subdomain has more user types, is possible to choose among them;
First name;
Last name;
Email address;
Password.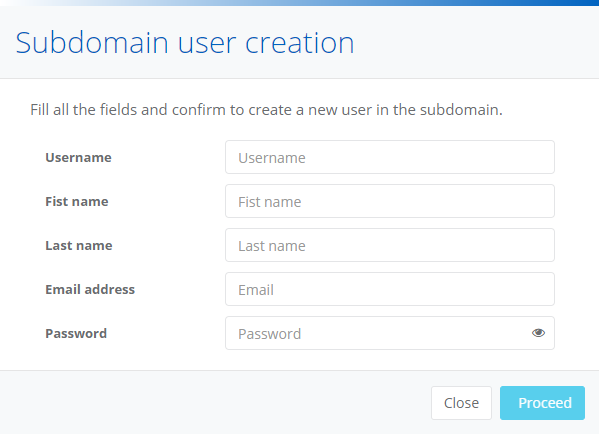 The list shows all the subdomain users, with the list of the possible actions:
Read only/Full access, to edit the user's visualization. In read-only mode it is possible to view only the dashboards while with full access all the elements are available;
Activate/deactivate users, Databoom access is blocked to the user. To enable the user, an administrator intervention is required;
Logout, to stop all the user's active sessions;
Delete, the user is deleted from the platform;
Password, to assign a new password to the user;
Edit quotes, to assign the user one or more STANDARD packages or edit the viewable data range in charts. To give quotes to a user, the PRESTIGE account must have a greater quotes availability.